25 เหตุผลทำไม Samsung Galaxy S4 ถึงดีกว่า HTC One [คลิปวิดีโอ]
30 May 2013
732 ครั้ง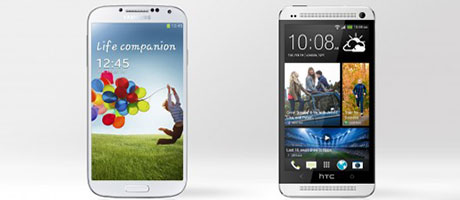 หากยังจำกันได้ครั้งก่อนได้นำเสนอคลิปวิดีโอเปรียบเทียบด้วยเหตุผล 50 ข้อระหว่าง iPhone 5 และ Galaxy S3
คราวนี้มาดูเหตุผลต่าง ๆ ระหว่างสมาร์ทโฟนแอนดรอยด์ด้วยกันบ้าง ผ่านคลิปวิดีโอที่อธิบายเหตุผลว่าทำไมถึงดี
กว่า การเปรียบเทียบครั้งนี้จะเป็น Samsung Galaxy S4 ดีกว่า HTC One คลิปวิดีโอล่าสุดที่จัดทำโดยเว็บไซต์
phonebuff เจ้าเก่ากับ 25 เหตุผลเป็นการเปรียบเทียบแบบหมัดต่อหมัด และเช่นเคยทั้งหมดก็ขึ้นกับวิจารณญาณ
ของแต่ละคน อยากให้ดูคลิปนี้เพื่อความบันเทิงและความรู้มากกว่าดราม่านะครับ 
25 เหตุผลทำไม Samsung Galaxy S4 ถึงดีกว่า HTC One
Larger 5 inch screen.
Larger 2600 mAh battery.
Removable battery.
MicroSD card slot for expandable memory.
Physical home button and dedicated menu button.
Easier to turn the screen on with side power button and physical home button.
Thinner and lighter.
Wireless toggles in the notification shade.
More updated version of Android (may be a sign of quicker updates in the future).
13 MP camera offers better photo quality.
Option to pause a video recording and resume at a later time.
More camera modes and options, including dual-shot.
Volume buttons can be configured as shutters.
Easy mode makes the phone more user friendly (almost too friendly).
Option for battery percentage icon in the notification bar.
Faster DDR3 RAM, more available RAM overall.
Option to close all apps from multitasking view.
Multiwindow allows you to use two apps simultaneously.
Air view and air gestures.
Screen works with gloves or long nails.
Gorilla Glass 3 offers up to three times more damage resistance.
Smart alert vibrates when you pick up your phone and have a new message.
S Voice, although not as good as Google Now, has some unique features.
Voice control lets you take pictures, snooze an alarm, and even answer phone calls with just your voice.
Smart features: Smart Scroll, Smart Pause, Smart Stay, and Smart Rotation.
More sensors: thermometer and hygrometer.
Group play lets you sync with other Galaxy S4s to play same song on all devices simultaneously.
Knox offers added security measures.
S Health helps you keep track of your body.
S accessories: game pad, flip cover, wireless charging back, etc.
Faster processor (either higher clock speed or octo-core depending on variant).
Pop up play lets you watch videos while you do other things.
Smart alarm wakes you up with a ascending volume.
Face and voice unlock makes face unlock a little more secure.
Easier to take screenshots by swiping your palm across the screen.
Share shot and buddy photo share.
Available on all four major carriers in the U.S.
Built in task manager.
Turn over to mute.
Messaging app lets you schedule future texts.
Better repairability.
Smart pages show you the content you want (plugging headphones in shows music apps etc).
ที่มา: Phonebuff